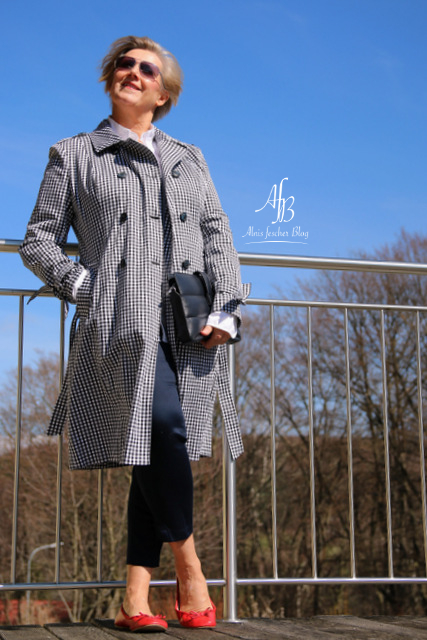 Vor ein paar Wochen habe ich mir bei Orsay einen wunderbaren Trenchcoat mit Karomuster gekauft, es war Liebe auf den ersten Blick.
Die lockere Passform mit eleganten Riemchen am Abschluss der Ärmel hat mir sofort gefallen. Außerdem hat der Mantel einen schicken Reverskragen, eine doppelreihige Knopfleiste und einen Taillengürtel.
A few weeks ago I bought a wonderful checker pattern trench coat at Orsay, it was love at first sight.
A loose cut with elegant bows at the end of the sleeves had me convinced in an instant. It's also double-breasted, has a collar and a belt around the waist.
Dazu trage ich eine blaue Slacks in 7/8 Länge aus Stretchstoff mit schmal zulaufendem Bein und verdecktem Seitenreißverschluss.
Eine klassische weiße Bluse vom amerikanischen Label J.Crew, rote Ballerinas und fertig ist mein klassisches Outfit. Eine dunkelblaue Clutch aus butterweichem Leder von COS begleitete mich bei jedem der drei Looks.
I combined it with blue slacks 7/8th lenght made out of strech with tight legs and a white side zipper.
Add a classic white blouse by American label J.Crew and the classic outfit is complete. I used my dark blue clutch bag made out of soft leather by COS on every one of the three outfits.
Der schicke Mantel im Marinestil ist von Nautica und schon lange in meinem Besitz, er ist einer meiner liebsten Mäntel. Gekauft habe ich ihn mir schon vor einigen Jahren in Florida. Leider ist die Marke bei uns in Österreich nicht erhältlich.
I've had this lovely coat in marine style by Nautica for a long time, it's one of my favourites. I bought it many years ago in Florida. Unfortunately you can't get this brand here in Austria.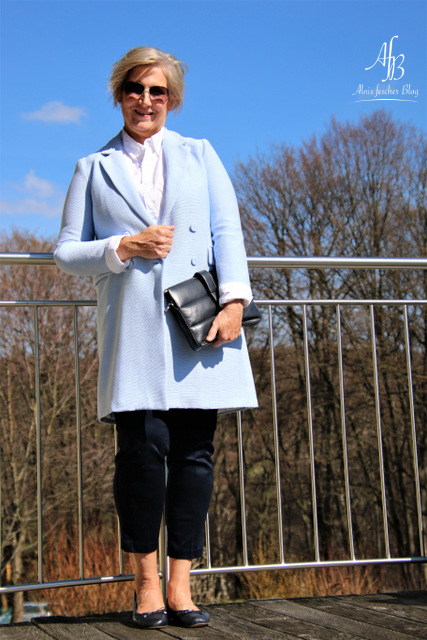 Als dritter im Bunde möchte ich Euch meinen hellblauen Übergangsmantel von Zara vorstellen. Eigentlich hatte ich diesen Mantel nicht so auf dem Radar, aber nach der Anprobe war mir klar, den muss ich haben. Gedacht, gekauft!
And last but not least I'd like to show you my light blue between-seasons coat by Zara. I was not going to buy it at first but when I tried it on I knew that I had to have it. Said and done!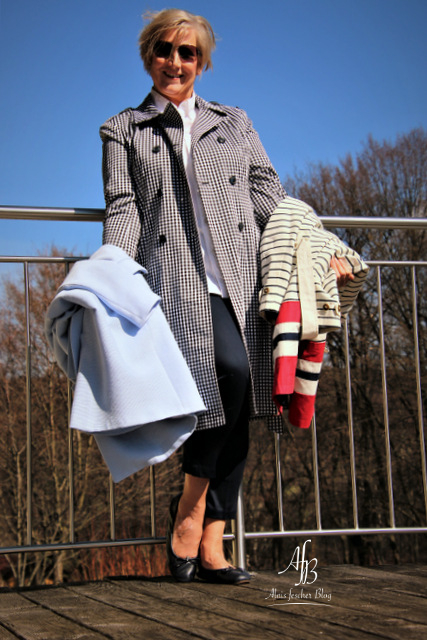 Ich hoffe, nun endlich Trenchcoat & Co tragen zu können, denn meine Wintermäntel und Jacken habe ich bereits in den Winterschrank verbannt!
I hope it is finally time to wear trench coats & Co., I've already locked away all my winter coats and jackets!
Sonnenbrille / sunglasses: Kiwi Italien;
Bluse / blouse: J.Crew USA;
Mantel mit Karomuster / coat with checked pattern: Orsay;
Mantel im Marinestil / navy style coat: Nautica;
hellblauer Mantel / light blue coat: Zara;
Clutch / bag: COS;
Hose / slacks: H&M;
blaue Ballerinas / blue shoes: Sam Edelman USA;
rote Ballerinas / red shoes: Italien;
Yours, Ni