"Ein Club. Eine Community. Eine Leidenschaft. Wein!"
Im Herzen des ersten Wiener Bezirks, im "Kipferlhaus", eröffnete vor Kurzem ein ganz besonderer "Private Member's Club". Weinliebhaber können in einem begehbaren Kellergewölbe auf ca. 300m²  25.000 Flaschen Wein lagern. Dank der optimalen klimatischen Bedingungen ein idealer Ort, um wertvolle Fläschchen zu deponieren.
Not long ago a very special "Private Member's Club" opened in the heart of Vienna's First District, at "Kipferlhaus". Wine-lovers can store 25.000 bottles of wine in a cellar vault at about 3000 squre feet. Thanks to the ideal climate conditions a great place to store your precious bottles.
Mit einer Member's Card können Mitglieder jederzeit rund um die Uhr die wineBANK mit ihren Gästen nutzen. Auf Wunsch können kleine, mittlere oder große Weinsafes gemietet werden.
Inkludiert ist ein Versicherungsschutz, Unterstützung der Belieferung und Befüllung der Fächer, Zugang zu einer wachsenden Zahl von wineBANK-Standorten in Deuschland, Österreich und der Schweiz, exklusive Veranstaltungen wie der monatliche wineBANKer's Table sowie zusätzliche Benefits bei lokalen Partnerunternehmen.
With a Member's Card, members can use the wineBANK with their guests, 24 hours a day. On request you can rent small, medium or large wine safes.
Included is insurance, support in delivery and filling of the shelves, access to a growing number of wineBANK-sites in Germany, Austria and Switzerland, exclusive events like the monthly wineBANKer's table as well as additional benefits at local partner organisations.
Freie Nutzung der Gläser, Tische, Sessel und Geschirr. Ein Chiller sorgt für blitzschnelles Kühlen der Weine.
You are allowed to use glasses, tables, chairs and dishes with no extra charge. A chiller cools your wine in the blink of an eye.
Mitgliedern stehen die zum Wein passenden italienischen Spezialitäten von Buongustaio (Genuss auf Italienisch), Joseph Brot vom Pheinsten oder Bergkäse in den verschiedensten Reifegraden vom Käseguru Sutterlüty auf Basis Selbstbedienung zur Verfügung.
Members also get self-service access to Italian specialties by Buongustaio (pleasure in Italian), Joseph Brot vom Pheinsten or alpine cheese in all degrees of maturity by cheese guru Sutterlüty.
Natürlich können auf Wunsch auch kleine Kellergewölbe gemietet werden.
Of course you can also rent a complete small vault, if you desire.
Wer kennt ihn nicht, Anton Sutterlüty, der Bergkäseguru. In den alten Gewölben des Kipferlhauses lagern ungefähr 3,4 Tonnen Bergkäse in den unterschiedlichsten Reifegraden, von 3 bis 33 Monaten Reife. Für mich einer der Besten, den ich je gegessen habe.
Who doesn't know Anton Sutterlüty, the alpine cheese guru. In the old vault of Kipferlhaus they store about 3,4 tons of alpine cheese matured for 3 to up to 33 months. For me one of the best I've ever had.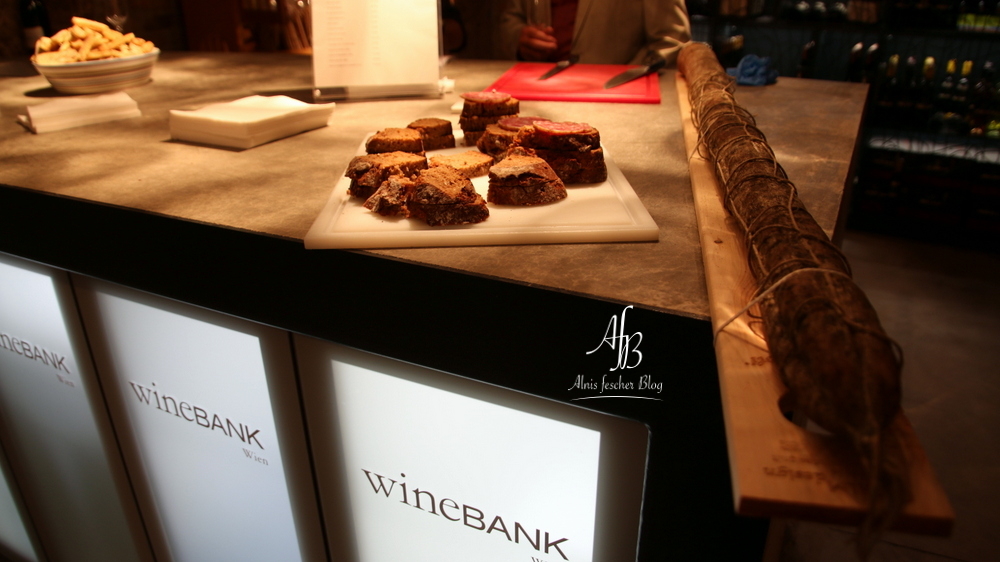 Zur Verkostung gab es wunderbare Salami aus der Region Emilia Romagna. Diese hervorragende Köstlichkeit gibt es einmal im Monat bei Buongustaio in der Singerstraße 13 zu kaufen.
Up for taste they had amazing salami from the region Emilia Romagna. This delicacy can be bought once every month at Buongustaio at Singerstraße 13.
Auch die Kunst kommt in der wineBANK nicht zu kurz. Das sehr geschmackvolle Ambiente des Kellers ist einfach perfekt für Weinverkostungen jeglicher Art, um geschäftliche Kontakte zu knüpfen oder einem guten Fläschchen Wein einfach die optimale Lagerung zu gönnen. All das bietet seit Juni 2016 die wineBANK in Wien.
Erinnert Ihr Euch an unseren Stadtspaziergang durch Wien? Wir machten Halt in der Grünangergasse und in der Nummer 8 befindet sich die wineBANK Wien im Kipferlhaus.
They also feature some artistry at wineBANK. The very aesthetic ambience of the cellar makes it the perfect place for winetastings of any kind, for business networking or simply allowing a bottle of wine to mature in the best possible conditions. All that can be had at wineBANK Vienna since June 2016.
Do you remember our stroll through Vienna? We went by Grünangergasse and at Number 8 you'll find wineBANK Vienna in Kipferlhaus.
Dieses Styling wählte ich übrigens für die besondere Eröffnungsfeier aus und werde es Euch demnächst in einem Outfit-Post genauer zeigen.
By the way, that's the styling I chose for this opening event, I'll show it to you in more detail soon in a dedicated outfit post.
Yours, Ni