Vergangene Woche wurden wir zur MQ Vienna Fashion Week 2015 geladen.
Last week we were invited to the MQ Vienna Fashion Week 2015.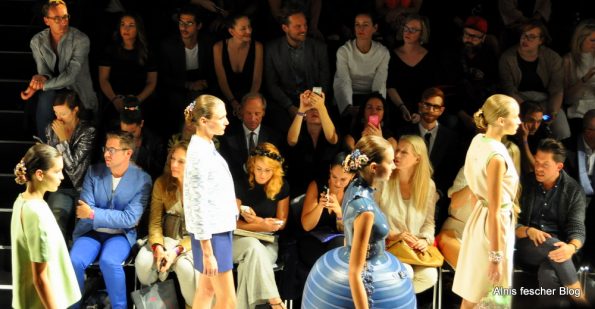 Keine Geringere als die 29-jährige österreichische Designerin Marina Hoermanseder eröffnete die Fashion Week mit einer wirklich gelungenen Show, in der sie uns ihre Sommer Kollektion 2016 präsentierte. Die Modeschöpferin ließ sich von aufwendig verzierten Gewändern der österreich-ungarischen Monarchie inspirieren. Es entstanden lieblich anmutende Designs.
Young Austrian designer Marina Hoermanseder was the one opening the fashion week with a great show, presenting us her new collection for 2016. She claims to have been inspired by elaborate costumes of Austrian-Hungarian monarchy. What she created were really graceful designs.

Außerdem entwarf sie die neuen Uniformen der Austrian Airlines und im Horror Thriller "The Neon Demon" – der heuer verfilmt wird – trägt die Schauspielerin Elle Fanning ihre Kreationen. Rihanna ist ebenfalls ein großer Fan von Hoermanseder und ordert ihre Outfits. Zudem gewann sie den Austrian Fashion Award (AFA) der Stadt Wien. Leider entdeckten wir bei der Herbst/Winter Kollektion 2015/16 ein paar Kleidungsstücke, in dem Pelz verarbeitet wurden.
Also, she was responsible for the new Austrian Airlines uniforms and in the horror movie "The Neon Demon" – which is to be shot this year – actress Elle Fanning is wearing her creations. Rihanna is also a big fan of Hoermanseder and orders her outfits. She has won the Austrian Fashion Award (AFA) of the city of Vienna. Unfortunately we found a few pieces in her fall/winter collection 2015/16 that had been made with real animal fur.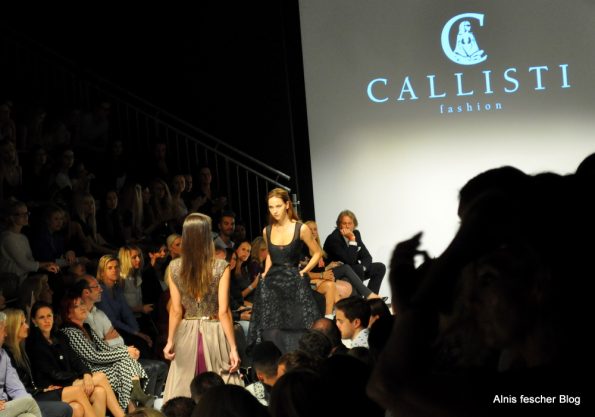 Das Label Callisti wurde 2007 in Wien gegründet und steht für extravagante, schicke Womenswear. 2012 launchte die Designerin Martina Müller auch ihre erste Männer-Kollektion mit Avantgard-Touch und Biker-Look-Attitude.
The label Callisti was founded in 2007 in Vienna and stands for extravagant, fancy womenswear. In 2012 designer Martina Müller launched her first Men's collection with a touch of Avantgard and Biker-Look-Attitude.
Die Kollektion F/S 16 der Rumänin Irina Schrotter wird durch geometrische Schnitte, neue Proportionen, konzeptionelle Details und verschiedene textile Strukturen charakterisiert. Eine jede ihrer gezeigten Kreationen ist tragbar und die fließenden Stoffe machen ihre Mode überaus lässig.
The collection S/S 16 by Romanian designer Irina Schrotter is characterized by geometrical cuts, new proportions, conceptual details and all sorts of textile structures. Every single one of the pieces shown was wearable and the beautiful fabrics make her fashion incredibly cool.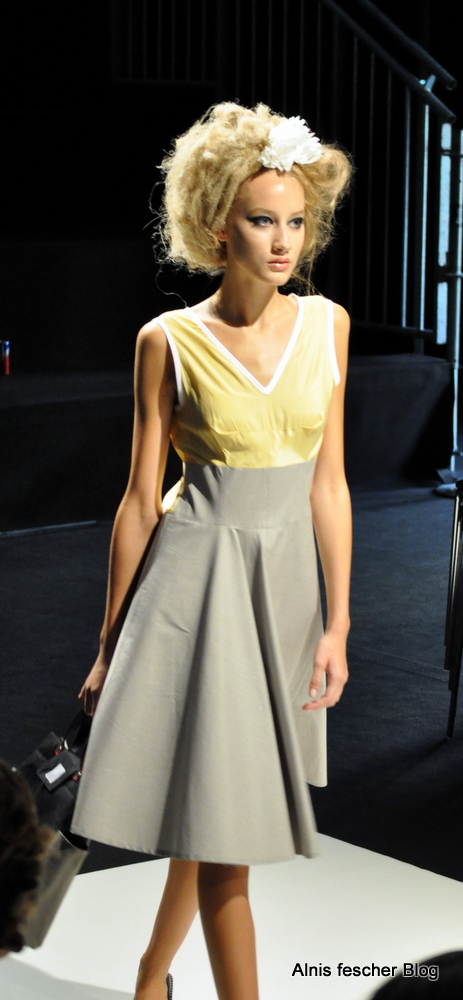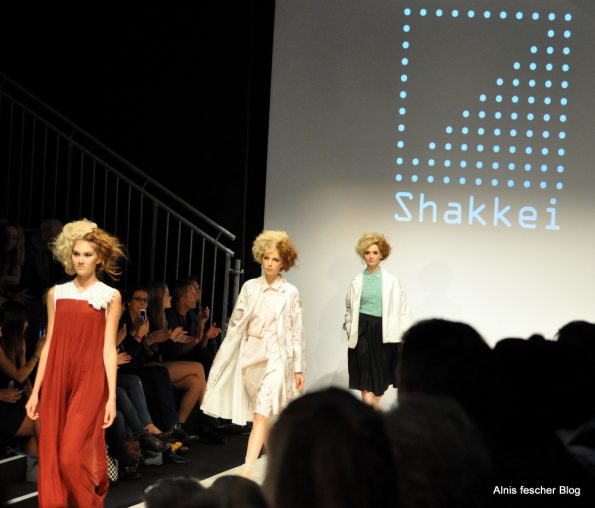 Das nachhaltige, grüne Label Shakkei von Gabriel Baradee ist ein Liebesschwur an seine Heimatstadt und wird beeinflusst von der Ästhetik des japanischen Designs.
Seine F/S 16 Kollektion greift erneut auf die Inspirationsquelle der "Geschichte des Prinzen Genji" zurück, einem japanischen Roman aus dem Jahr 1000, der traditionelle Kunsttechniken detailgenau beschreibt.
The environmentally sustainable, green label Shakkei by Gabriel Baradee is a lover's oath to his hometown and influenced by the aesthetics of Japanese design. His S/S 16collection once again takes its inspiration from "The Tale of Genji", a Japanese novel written in the year 1000 which describes traditional craftwork in a very detailed fashion.

Die Fashion-Show "Bloggers Choice" wurde von den Bloggerinnen Anna Heuberger und Petra Gschwendtner zusammengestellt. Zu sehen waren die Lieblingsstücke österreichischer Designer und Labels, die im Pop-Up-Store des MQ schon zu bewundern waren. Von lässigen Pullis, coolen Sweatern bis hin zu Badehosen, all das wurde uns gezeigt.
"Bloggers Choice" is a fashion show put together by bloggers Anna Heuberger and Petra Gschwendtner. They showed favourites by Austrian designers and labels which had already been out for show in the Pop-Up-Store of the MQ. We saw anything from interesting Pull-overs, cool sweatshirts all the way to trunks.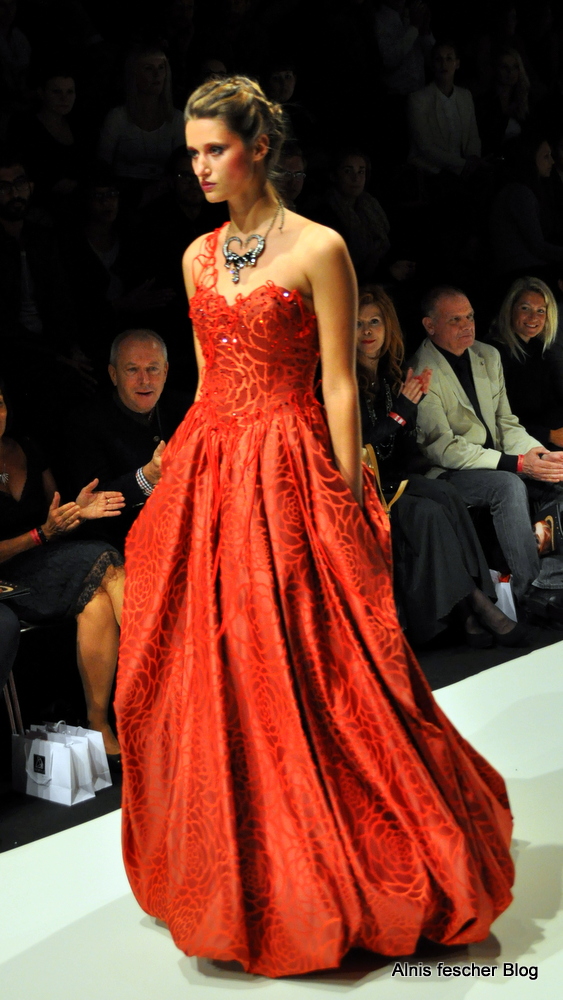 Romantisch anmutende Stoffe und florale Muster verschmolzen mit einer entfesselnden Kraft aus rotem und schwarzen Kontrast in einer modernen, barocken Interpretation bei der beeindruckenden Show der Manufaktur Herzblut. Der Designer Markus Spatzier präsentierte uns eine wirklich tolle Show mit wunderbaren Kreationen. Einziger Minuspunkt – leider arbeitet auch dieser Designer teilweise mit Pelzen!
Very romantic fabrics and floral patterns merged with an unleashing force of red and black contrast in a modern take on baroque style at the show of Manufaktur Herzblut. Designer Markus Spatzier presented us with a really great set of his creations. Only downside – unfortunately they also work with real animal fur in some of their pieces.
Wir hatten die Ehre bei der heurigen MQ Vienna Fashion Week 2015 viele außergewöhnliche Labels kennenzulernen. In Kürze zeigen wir Euch noch die Designs von JCHOERL genauer und freuen uns schon auf die Vienna Fashion Week 2016.
We were honored to get to know so many extraordinary labels at this year's MQ Vienna Fashion Week 2015. We'll show you the designs of JCHOERL in a little more detail soon and we're looking forward to Vienna Fashion Week 2016.