Vergangene Woche bekamen wir eine nette Einladung zur Eröffnung des ecco-Stores auf der Kärntner Straße 47 in der Wiener Innenstadt.
Wir haben uns sehr darüber gefreut und waren schon neugierig, was denn hier so alles angeboten wird.
Last week we received a lovely invitation to the store opening of the ecco-Store at Kärntner Straße 47 in Vienna.
We were looking forward to it a lot and were very excited to find out about the products they sell.
1963 wurde ecco von Karl Toosbuy mit Hauptsitz in Dänemark gegründet, wobei anfänglich nur Damenpumps erzeugt wurden. Doch im Laufe der Zeit wuchs das Unternehmen an und nun ist es in allen Segmenten des Schuhmarkts tätig.
Weltweit werden ca. 15 Millionen Schuhe verkauft und 13.000 Mitarbeiter beschäftigt. Der Umsatz beträgt etwa 600 Millionen Euro.
Kerngeschäftsbereich sind Schuhe, wobei ecco bei Sportschuhen Weltmarktführer ist. Niederlassungen sind über den ganzen Erdball verteilt. Außerdem wird an 5 verschiedenen Standorten produziert. Produktentwicklung und Logistik befinden sich jedoch immer am Unternehmensstandort.
ecco was founded in 1963 by Karl Toosbuy in Denmark, producing only women's pumps. Time after time the company grew larger and larger, now producing all kinds of shoes you can imagine.
They sell about 15 million shoes worldwide, employing 13.000 people. Their annual business value is about 600 million Euros.
Their main products are shoes, as mentioned, in fact they are among the leaders in sports shoe manufacturing. You can find their stores all over the globe. By now they also have five factories rather than just one. Development and logistics however are still done from their original location.
Auf rund 70m² Verkaufsfläche präsentiert das skandinavische Label ecco hochwertige Qualitätsschuhe und Lederaccessoires mitten im Herzen von Wien.
On about 70m² the Scandinavian label ecco presents quality shoes and leather accessories, right in the middle of Vienna.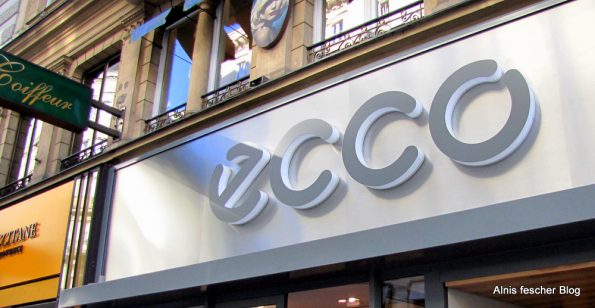 Wir wurden sehr nett empfangen und natürlich mit allerlei Köstlichkeiten verwöhnt.
We received a warm welcome and were greeted with lots of delicacies.
ecco-Schuhe wurden speziell zum bequemen Stehen, Gehen und Laufen entwickelt.
Vom Freizeit- und Sportschuh bis hin zu Mokassins, sowohl für Damen, Herren und Kinder findet man hier. Ein jeder Schuh in hoher Qualität und bestem Leder.
ecco shoes are developed especially for standing, walking and running comfortably.
You'll find everything from sports shoes to moccasins, for women, as well as for men and children. Every shoe is top quality and made from fine leather.
Wirklich begeistert waren wir aber von den wunderbaren Taschen, das weiche Leder hatte es uns besonders angetan.
What really got to us were the beautiful hand bags made from very soft leather.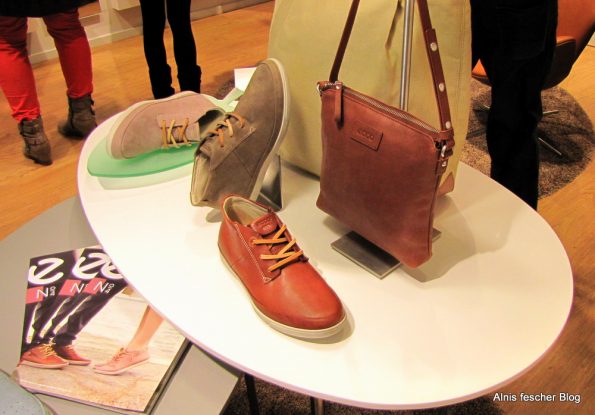 Auch Sporttaschen findet man hier, natürlich in bester Qualität.
You can also find sports bags here, those are great quality as well.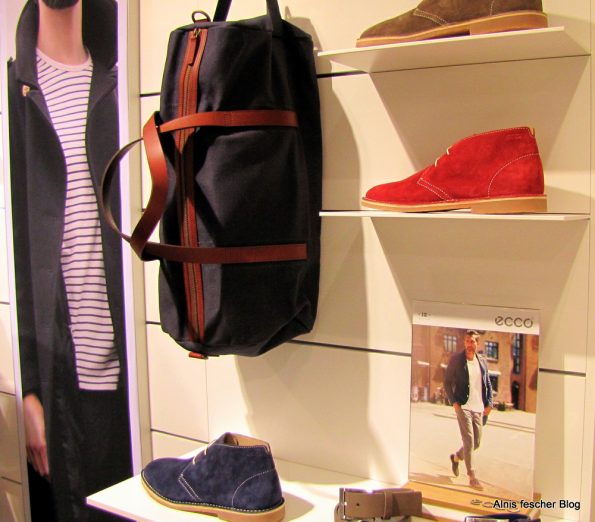 Die für Skandinavien typischen schlichten Formen und Farben. Minimalistisches Design, das uns sehr beeindruckte.
The very characteristic colours and shapes of Scandinavia. Minimalistic design, which we loved.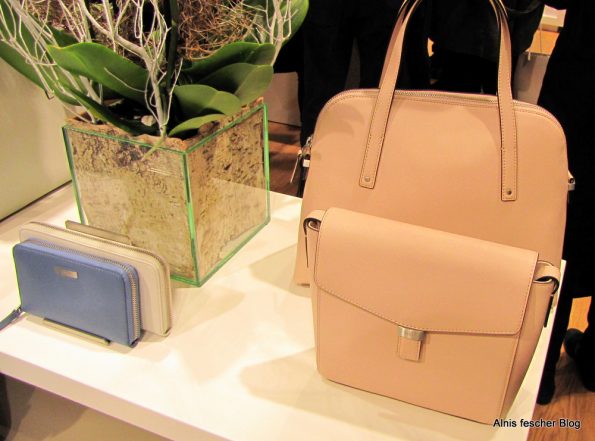 Großen Wert legt das Unternehmen natürlich auch auf Nachhaltigkeit.
The company of course attaches great value to sustainability.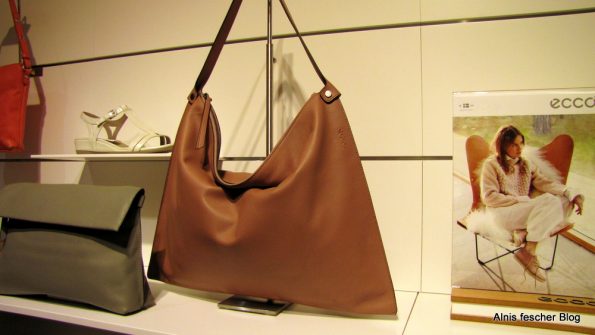 Wer bequeme Schuhe mit hohem Tragekomfort und wunderbarer Qualität sucht, ist bei ecco auf der Kärntnerstrasse 47 in Wien auf jeden Fall richtig.
If you're looking for comfortable shoes with great quality, look no further, ecco at Kärtner Straße 47 in Vienna has got you covered!