Crabtree & Evelyn wurde 1972 als Familienunternehmen gegründet und von Cyrus Harvey mit seiner Leidenschaft für das Reisen und seinem angeborenen Interesse an natürlichen Produkten geleitet. Als Inspiration diente ihm das Leben von John Evelyn, der als einer der ersten Naturforscher und Naturschützer gilt.
Crabtree & Evelyn was founded in 1972 as a family business, managed by Cyrus Harvey who was very passionate about traveling and very interested in natural products. He got a lot of inspiration from John Evelyn, one of the very first natural scientists and conservationists.
Crabtree & Evelyn war eine der ersten Marken, die sich auf natürliche Inhaltsstoffe aus den verschiedensten Teilen der Welt konzentrierte!
Leider mussten wir aber bei unseren Recherchen feststellen, dass in vielen Produkten ein paar bedenkliche Inhaltsstoffe zu finden sind.
Crabtree & Evelyn was one of the first brands to focus on natural ingredients from all over the world!
Unfortunately we found out that many of their products contain questionable ingredients.
Begonnen hat eigentlich alles 1972 mit den Erzeugnissen feiner Seifen, Badezusätzen, Duschgels und Eau de Colognes. 1975 wurde das Sortiment durch Delikatessen wie Marmeladen, Chutneys, Honigsorten, Früchte, Gebäck, Konfekt und Tees erweitert. 1977 wurde in Philadelphia das erste eigene Geschäft gebaut und eröffnet. 1980 wurde der Grabapple Tree zum Wahrzeichen der Marke.
It all started in 1972 with the production of fine soaps, bathing additives, shower gels, and Eau de Colognes. They extended their product range in 1975 by adding jams, chutneys, honeys, fruits, pastries and teas. Their first distinct shop opened in Philadelphia in 1977. In 1980 the company got their emblem, the Grabapple tree.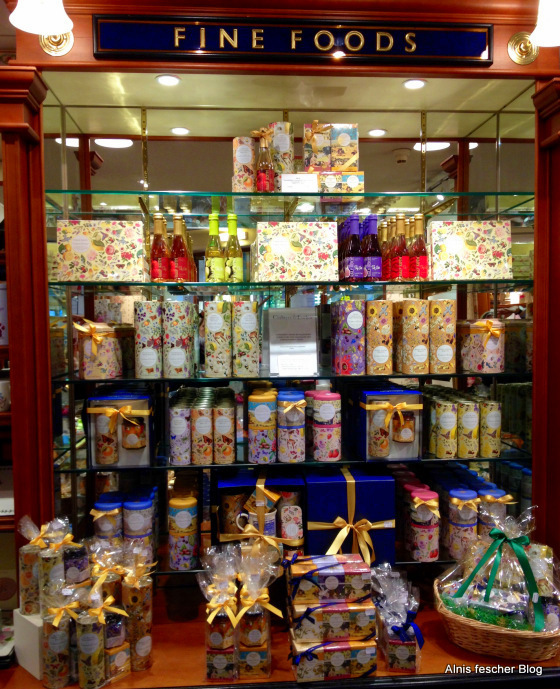 Die künstlerisch gestalteten Verpackungen sind sehr ansprechend und haben uns von Anfang an begeistert.
The artistic boxes are lovely and very appealing to us.
Beim Betreten des Geschäftes fühlten wir uns anfänglich auf Grund des wirklich großen Angebotes etwas überfordert, aber eine sehr nette Verkäuferin nahm sich unser an und im Nu waren wir über die Produktvielfalt informiert.
When we first entered the store the big range of products was a bit overwhelming, although it didn't take long for a shop assistant to greet us and show us around.
Duschgels, Körperlotionen, Seifen und dazu passende Parfums, Handpflegeprodukte und Nagellacke – all dies wird hier angeboten.
Shower gels, body lotions, soaps with matching perfumes, hand care products and nail polishes – that and more you can get right here.
Ob Iris, Rose, Maiglöckchen, Lavendel, Lilie, Granatapfel, Zitrone, Avocado, Orange oder Magnolie – um nur die Wichtigsten zu nennen – gibt es hier.
All kinds of different scents are available, like, to name but a few, iris, rose, lily of the valley, lavender, lily, pomegranate, lemon, avocado, orange or magnolia.
Die Gardeners Nail & Cuticle Therapy verwende ich gerne zur Pflege meiner Nagelhaut.
I like to use Gardeners Nail & Cuticle Therapy for my cuticle.
Die Heritage Collection ist eine sinnliche Reise zur Mittelmeerküste und den historischen Metropolen Europas. Man kann zwischen Blütenwassern und Eau de Colognes wählen.
Their Heritage Collection is a sensual trip to the Mediterranean coastline and the historical metropolises of Europe.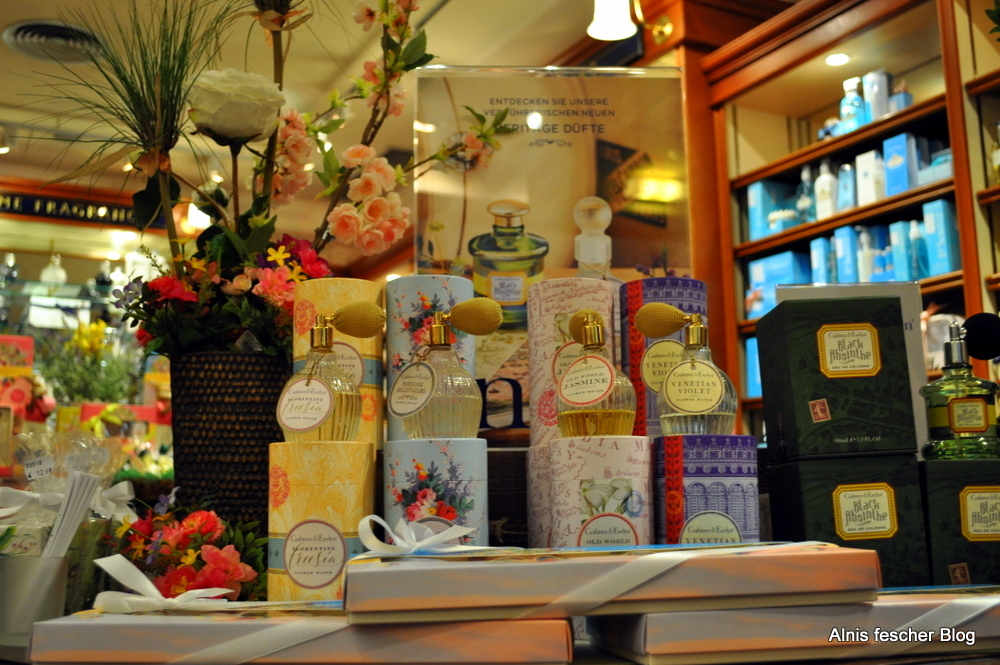 Ganz begeistert waren wir von den süßen Leckereien, die sich uns hier anboten.
Ob English Breakfast, Earl Grey oder Afternoon Tea bis hin zu meinen persönlichen Favoriten, den Triple Chocolate Chunk Biscuits und Shortbread, aber auch feine Konfitüren und Toffees in geschmackvollen Dosen – dies alles findet man hier.
We really loved the little goodies they offered us here.
You'll find anything from English breakfast, Earl Grey or Afternoon Tea all the way to my personal favorit, the Triple Chocolate Chunk Biscuits and Shortbread, as well as fine jams and toffees in aesthetic boxes.
Die Caribbean Island Wild Flowers Linie duftet herrlich erfrischend!
Their Caribbean Island Wild Flowers product line smells very refreshing.
Das zarte Maiglöckchen ist mein persönlicher Frühlings-Favorit. Der Duft erinnert an einen wundervollen Frühlingsmorgen in duftenden Wäldern und hat eine zarte Note von Hyazinthen und Ylang Ylang.
The tender lily of the valley is my personal spring favorite! The scent reminds me of a beautiful spring morning in a fragrant forest and it has a hint of hyacinth and Ylang Ylang.
Der wirklich sehr geschmackvoll dekorierte Laden im Inneren der Ringstrassen-Galerien.
The very tastefully decorated store at Ringstraßen-Galerien.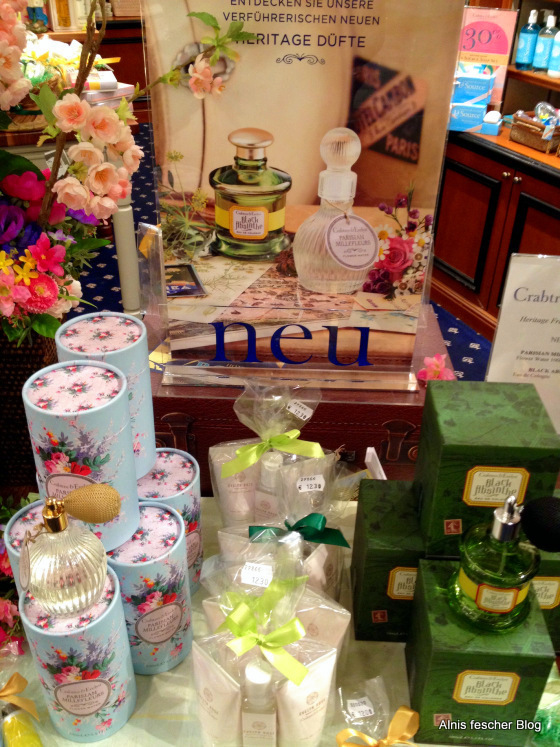 Ob Geburtstag, Weihnachten, Muttertag oder einfach um sich selbst etwas Gutes zu tun – Crabtree & Evelyn ist immer einen Besuch wert!
Whether it's someone's birthday, Christmas, Mother's day or whether you're just looking to buy a gift for yourself – Crabtree & Evelyn is always worth a visit.