Vergangene Woche bekamen wir eine sehr interessante Einladung. Wir durften die Suppenmanufaktur "SUPPITO" in Wien besuchen.
Frau Dr. Andrea Scholdan, ursprünglich Fachärztin für Urologie, führt nun schon seit 9 Jahren das Suppito mit viel Engagement und Liebe. Sie erzählte uns die interessante Geschichte, wie sie ihre Leidenschaft zur 5-Elemente-Lehre der Traditionellen Chinesischen Medizin entdeckte.
Last week we received a very interesting invitation. We visited the Soup- factory "SUPPITO".
Dr Andrea Scholdan, who's actually a urologist, has been producing soups with much love and commitment at Suppito for nine years now. She told us about her, discovering the passion for the five-element-teachings of Traditional Chinese Medicine.
Nach langer Krankheit und verschiedensten Lebensmittelunverträglichkeiten lernte sie die TCM-Beraterin der 5-Elemente Ernährung, Frau Susanne Peroutka, kennen. Mit ihrer Beratung und Unterstützung gelang es Frau Scholdan ihre Ernährungsgewohnheiten abzulegen, was natürlich anfangs nicht ganz leicht war. Aber nach einiger Zeit stellte sich ein Wohlgefühl, Gesundheit und bis dahin nie gekannte Energie ein.
After a long time of illness and many different food intolerances she met Susanne Peroutka, a TCM-Consultant. With her help she started to get rid of some old habits which of course at the beginning wasn't quite as easy. But after some time she started to feel healthy, happy and full of life, like she had never felt before.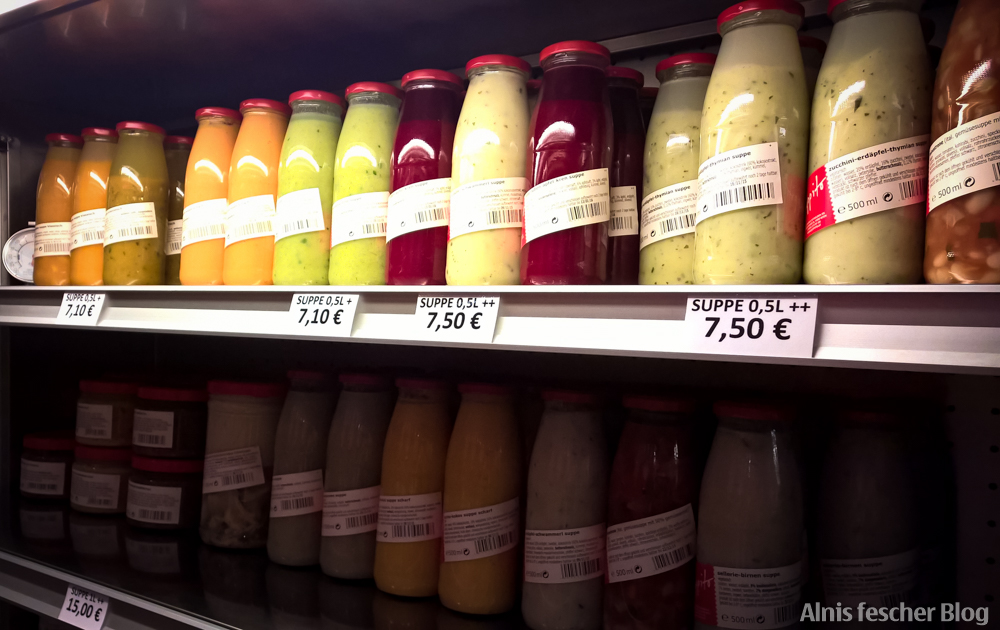 So wurde Frau Susanne Peroutka zu ihrer Lehrerin und Frau Dr. Andrea Scholdan zu ihrer Schülerin. Dadurch entdeckte auch die Ärztin ihre Leidenschaft zur 5-Elemente-Küche.
Leidenschaftlich begann sie zu kochen und Rezepte zu entwickeln, Familie und Freunde wurden bekocht, Suppen und Eintöpfe hergestellt und ihr Traum von der eigenen Suppenküche damit geweckt. Es blieb kein Traum!
And so Susanne Pertouka became the teacher and Dr Andrea Scholdan became the Student. That is how she discovered her passion for the five-elements-cuisine.
She started to cook and to develop recipes, she cooked for friends and family, created all kinds of different soups and stews and the dream of her own soup-kitchen arose. Well, her dream has come true!
Das Suppito ist eine Suppenmanufaktur, in der nach der 5-Elemente-Lehre Suppen, Eintöpfe und Süßes gekocht wird. Ihr freundliches Küchenteam steht ihr mit Rat und Tat zur Seite. Sie selber sagt, wir sind eine Familie, selbst wenn wir in Kultur, Sprache, Hautfarbe und Religion unterschiedlich sind!
Suppito is a soup-factory which produces soups, stews and sweets according to the five-elements-teachings. Her friendly kitchen-staff are helping her to make it all happen. She says, "We're a family, even if we are quite different in culture, skin colour and religion!"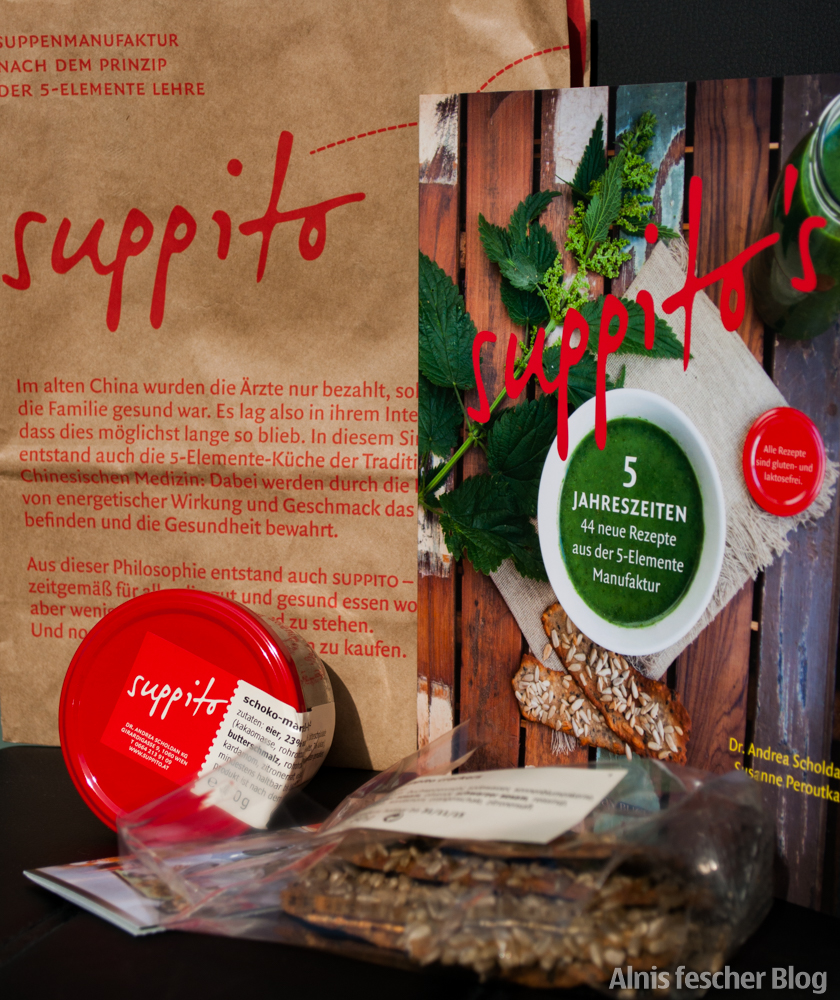 Mit besten Zutaten, überwiegend biologisch, alles laktosefrei, hefefrei und glutenfrei. Die in Flaschen und Gläser abgefüllten Suppen und Eintöpfe werden ohne Konservierungsstoffe zubereitet und sind 4-15 Wochen gekühlt haltbar.
They cook only with the best ingredients, most of them ecological, lactose-, yeast- and gluten free. The soups are then filled into bottles or glasses without any preservatives and can be stored for 4 to 15 weeks in a refrigerator.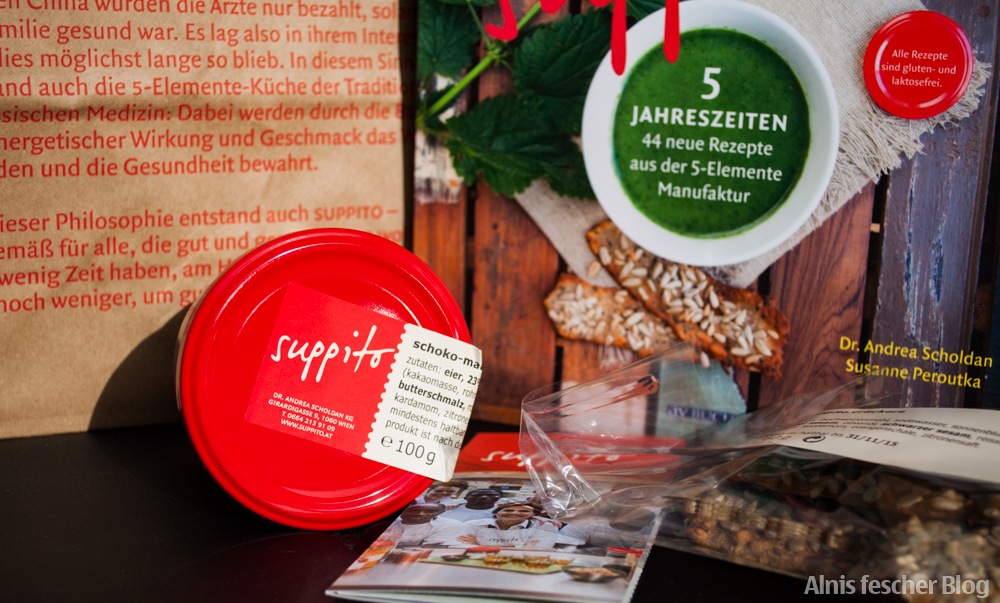 Die Produkte können online bestellt oder direkt im Geschäft gekauft werden.
Das Sortiment: Köstliche Suppen und Curries, süße und pikante Eintöpfe, Sugos sowie Kuchen, Cookies und Cracker.
Their products are available online or from the store directly.
The range: Tasty soups and curries, sweet and spicy stews, sugos as well as cakes, cookies and crackers.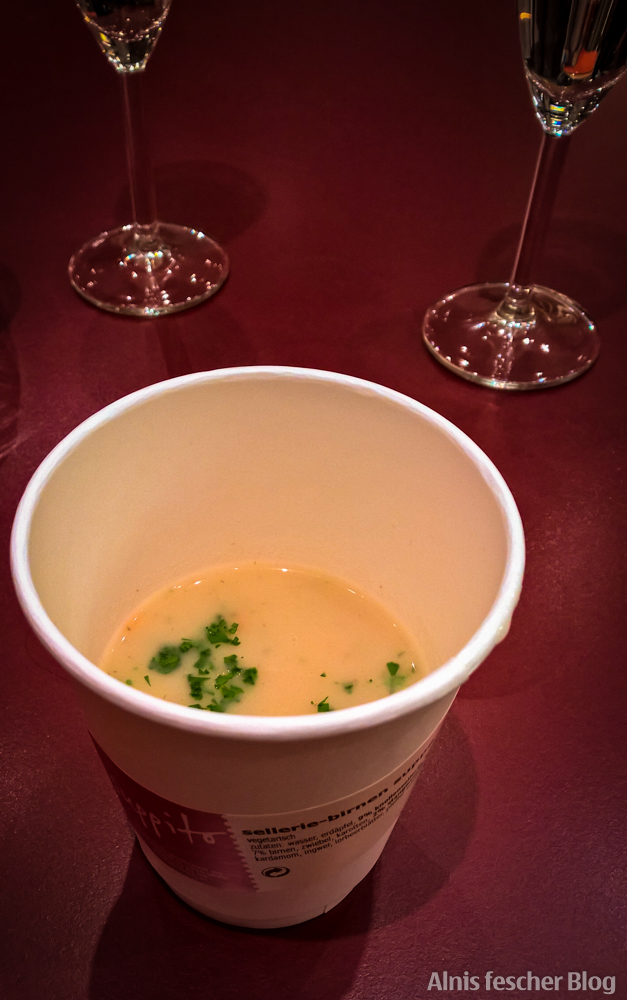 Wir durften auch Einiges probieren, so wie die Sellerie-Birnen-Suppe,
We were even allowed to taste a few things such as celery-pear soup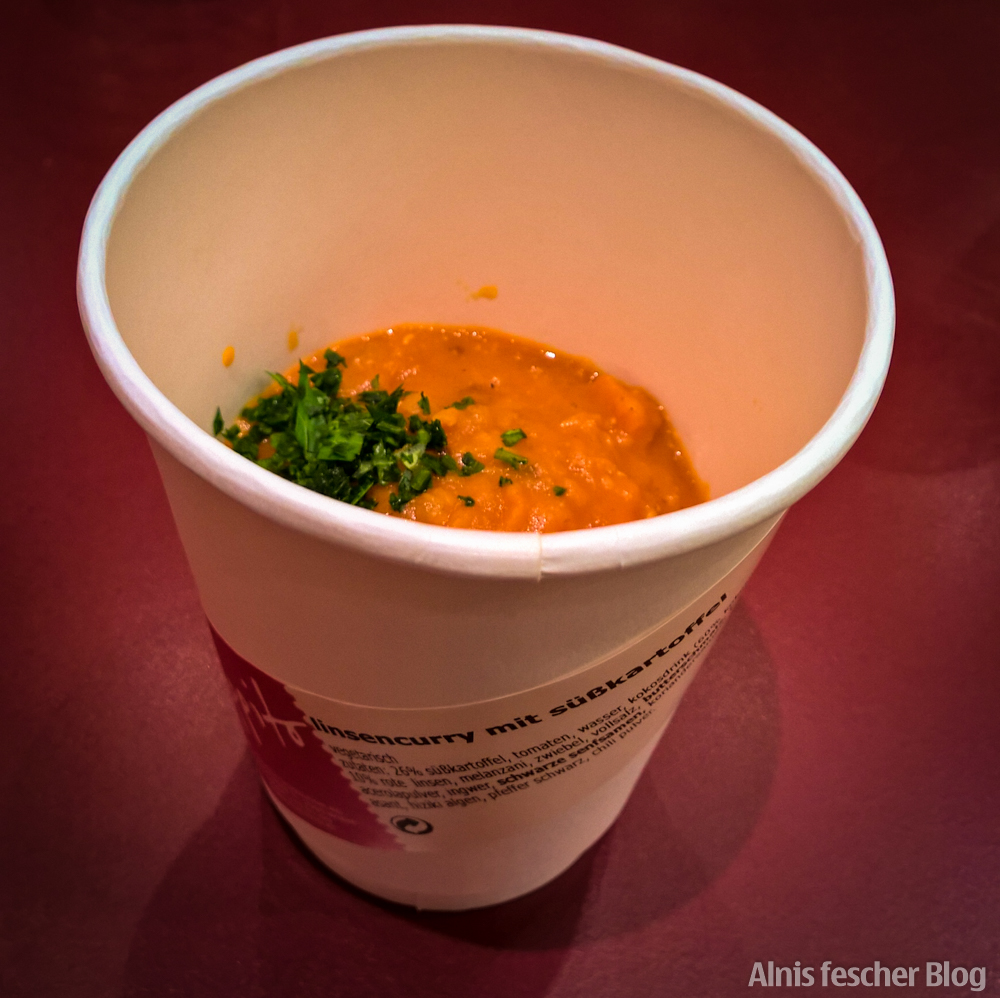 ein Linsencurry mit Süßkartoffeln – überhaupt nicht scharf – ich habe es auch schon nachgekocht.
or lentil-curry with sweet potatoes – which is not spicy at all, I already tried making it myself.
Und zu guter Letzt, der Druidenzauber, eine Powermischung aus Mandeln, Kürbiskernen, Chiasamen, Leinsamen, Kokosblütenzucker und vielen, vielen Gewürzen. Zubereitet mit einer Mandel-Kokos- oder Sojamilch. Wir waren von diesem Müsli so begeistert, dass wir uns gleich eines mit nach Hause nahmen.
Diese Köstlichkeit bekommt man schon fix und fertig gemischt, nur noch Milch dazu geben und genießen.
And last but not least, the druid's spell, a power mix of almonds, pumpkinseeds, chia seeds, flax seeds, coconut sugar and many, many different condiments. Made with almond-, coconut- or soy milk. We loved this cereal so much that we both took some home with us.
These lovely delicacies are already mixed, all you need to do is add milk and you're good to go.

Suppito Shop + Go:
Girardigasse 9 / Ecke Lehargasse, 1060 Wien (Nähe Naschmarkt);
Öffnungszeiten: Mo – Do (werktags) von 8-19 Uhr
Die Hauszustellung innerhalb Wiens erfolgt nach Vereinbarung, jedoch nur an Werktagen von Mo – Do zwischen 10 – 14 Uhr.
Suppito Produkte bekommt man auch noch hier:
Merkur Hoher Markt – 1010 Wien
Merkur Gerngross – 1060 Wien
Lebenswert Laden – 1190 Wien
Jagdschloss Apotheke – 1130 Wien
Naschsalon – 1090 Wien
Suppito Shop + Go:
Girardigasse 9 / Ecke Lehargasse, 1060 Vienna (not far from Naschmarkt);
Open Mo-Thu (on workdays) from 8 A.M. to 7 P.M.
They also deliver within Vienna on request, although only from Mo-Thu from 10 A.M. to 2 P.M.
Suppito products are also available at
Merkur Hoher Markt – 1010 Vienna
Merkur Gerngross – 1060 Vienna
Lebenswert Laden – 1190 Vienna
Jagdschloss Apotheke – 1130 Vienna
Naschsalon – 1090 Vienna